Board Member – Jordon Daniel – USN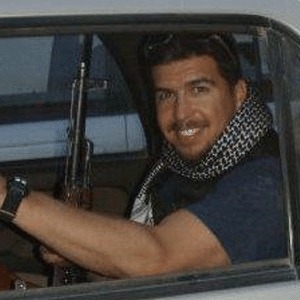 Jordon Daniel grew up in Colorado and would be hard pressed to call anywhere else home. He has been to 49 of the 50 states and considers Colorado the best state in the union thanks in large part to our beautiful mountains. Jordon is an avid mountain climber having summited twenty nine 14ers throughout Colorado. One day he hopes to complete them all. Jordon is just as active in the winter months as he is in the summer. Snowshoeing, ice climbing and skiing are among his many hobbies. Jordon is the proud father of a nine year old little girl. He hopes to continue to share his adventures with her and create a few more of their own together.
Jordon Daniel has been a mainstay in the veteran community in Colorado. As the grandson and son of Navy veterans, Jordon has truly grown up in the military and veteran community. He is a US Navy Veteran having served from 2002 to 2006. He served in the Middle East from 2002 to 2004 and conducted Anti- Drug operations and migrate ops in the Caribbean Sea from 2004 to 2006. Jordon was honorably discharged from Navel service in March of 2006. He went on to serve as a defense contractor overseas from 2006 until returning to Colorado in the spring on 2010.
Some of the highlights from his time in the service include stops in over fifty countries. This is unique as he was never station onboard a US Navy vessel. All of his commands were either landlocked countries like Afghanistan and Uzbekistan or shore commands such as Cuba and Bahrain. Jordon also served as the youngest member of the highest ranking naval officer's personnel protection detail in the Middle East. Eventually, Jordon was selected to lead that same detail.
Jordon has lived an exciting life. In his travels he has made it to 5 continents and over 50 countries. Jordon can say he has touched the Pyramids in Egypt, stepped foot in the ruins of Babylon in Iraq, visited the head waters of the Euphrates River in Turkey and has gazed upon Mt. Everest from a distance.
Jordon has done a remarkable job leading veterans in Colorado. His steadfast dedication has greatly improved the quality of life for many vets in the area. One of his main focuses is raising awareness of suicide among veterans and training others in how to assist veterans. He has been a shot in the arm for the veteran space in Denver in particular, he has helped make Colorado one of the more active veteran volunteer bases in the country. Currently, Jordon is championing the efforts of The Mission Continues here in Denver. In January of 2016 Jordon stepped up to serve as the Denver service platoon leader for the organization. He is responsible for engaging over 500 volunteers in the Denver metro area with service projects, support events, special activities and social outings. Jordon and his group of volunteers have donated over 4000 hours of volunteer time over the course of 40 such events to the state of Colorado.