Veteran Coordinator – Ryan Newell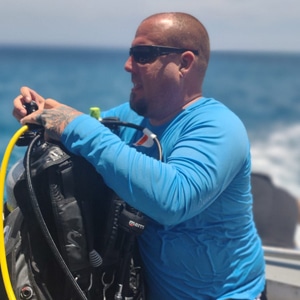 Army Sgt (Ret) Ryan Newell is a combat wounded bilateral above the knee amputee who is the only survivor of not only the truck he was riding in but his three man team as well. Ryan has not only helped in the non-profit sector since being medically retired but had also held the position of Senior Vice Commander at his VFW within the first year of retirement.
While recovering from his wounds he carried on his leadership and passion for helping fellow Veterans overcome adversity. Ryan has been scuba diving now since 2021 and has reached the level of advanced open water diver. After learning the benefits and experiencing them firsthand from scuba diving, Ryan felt the need to help get other wounded veterans involved in the sport. Outside of scuba diving Ryan enjoys riding his modified Harley Davidson trike and spending time with his family. With his passion for helping others and drive to see other Veterans overcome adversity, Ryan hopes to help grow the Warfighter family through his past experiences.