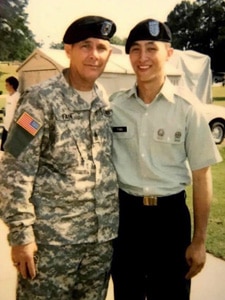 SGT Jay Fain Jr – US Army
March 9th – March 16th, 2019
Roatan, Honduras
We are proud to introduce United States Army Sergeant Jay Fain Jr. SGT Fain served with A-Co 1-26 Infantry as an Infantryman with one combat deployment to Iraq from 2006 – 2008.
Army Veteran SGT Jay Fain visited us for a week of scuba diving in Roatan, Honduras. SGT Fain conducted routine patrol missions in Iraq. SGT Fain was on his way to depart Iraq for his leave block when his vehicle struck an explosive formed projectile (EFP). In the blast SGT Fain was severely wounded and required his right leg to be amputated at his hip. SGT Fain has an amazing story where his father, Retired Sergeant Major Fain, was in country as a civilian contractor and in the area where SGT Fain was injured. His father was able to be with him in country during his surgeries and before his medical evacuation (MEDEVAC) out of country for more serious care. SGT Fain never gave up his joy for life and is a true inspiration to all of us. Jay truly is a natural in the water and has now earned the nickname "merman" due to his grace in the water after learning the mermaid or dolphin kick to swim better. SGT Fain became certified with Open Water and was able to complete his Advanced, Nitrox and a Full Face mask certification in his week here. SGT Fain Jr has now been crowned as our first amputee veteran through Warfighter Scuba's programs and will not be the last! Jay has already expressed interest in pursuing his dive professional career with us to help instruct fellow veterans in the art of SCUBA.
To view the full bio of SGT Jay Fain Jr. please click here.
Photos from SGT Fain's Therapy
The diving was incredible to say the least, being able to offer our services to wounded veterans in the Caribbean makes the courses easy due to visibility and lack of currents/rough seas.  If you are interested in our program and becoming a Warfighter Diver please contact us and we can begin the registration process!
Our organization is a 501(c)(3) non-profit that cannot function without your donations. Please help us help eliminate the veteran suicide rate by donating at
www.warfighterscuba.org/donate/
#usmc #veteran #scuba #veteransdiving #nonprofit #warfighterscuba