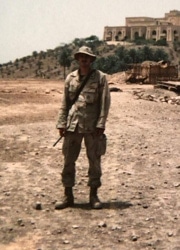 SSgt Vince Barna – US Marine Corps
February 23rd – March 2nd 2019
Roatan, Honduras
We are proud to introduce United States Marine Corps Staff Sergeant Vince Barna. SSgt Barna served as a Radio Operator with 1st Reconnaissance Battalion with combat deployments to Iraq during the initial invasion.
Marine Corps Veteran Staff Sergeant Vince Barna visited us for a week of scuba diving in Roatan, Honduras. SSgt Barna carries the same burden most veterans of war carry when leaving the military and that is memories of the brotherhood and those lost in Iraq during his deployments. Barna is now a real estate agent in San Diego, CA and was previously certified Open Water Diver without having dove for 18 years! Vince was referred to us by a previous veteran who came through the program and was generous enough to help pay his way through the course which helps tremendously as travel costs are one of the highest expenses for each veteran. We were able to get a full week with SSgt Barna and get him his Advanced, Nitrox and a Full Face mask certification.
Photos from SSgt Barna's Therapy
The diving was incredible to say the least, being able to offer our services to wounded veterans in the caribbean makes the courses easy due to visibility and lack of currents/rough seas.  If you are interested in our program and becoming a Warfighter Diver please contact us and we can begin the registration process!
Our organization is a 501(c)(3) non-profit that cannot function without your donations. Please help us help eliminate the veteran suicide rate by donating at
www.warfighterscuba.org/donate/
#usmc #veteran #scuba #veteransdiving #nonprofit #warfighterscuba